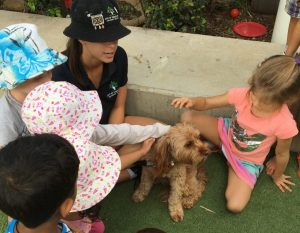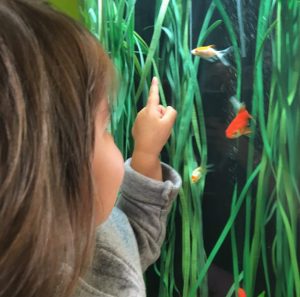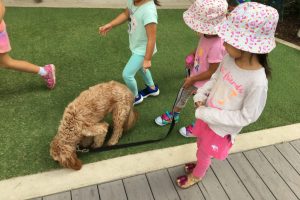 Pets can be the fourth educator in early childhood settings, as Victoria Avenue Children's Centre shows with its Tiny Tails program. By Margaret Paton, CELA Writer
Can animals be the 'fourth educator' in early childhood settings?
That's the case Monash University educator Jane Bone made in her research paper in the Australasian Journal of Early Childhood. Animals take a range of roles in children's books, can teach children about the cycle of life, the rules of ecology, support companionship and wellbeing and can have an economic return, Bone says. It's not unusual to find pets in early childhood education services: anecdotally there are fish, birds, guinea pigs, chickens, turtles, axolotls, rabbits, lizards and stick insects. In inner-west Sydney, The City of Canada Bay's Victoria Avenue Children's Centre has been 'growing' its pet program since the service opened almost three years ago. Educator Niki Ficsor has been helping drive their 'Tiny Tails' Program and spoke to CELA about it.
Why a pet program?
Ficsor says the program started from children's interest in animals. It aims to give children opportunities to be hands-on with different types of animals and learn about responsible pet ownership. "Many of the children live in apartments where they're not able to have pets or don't have enough space where they live," she says. Tiny Tails has integrated animals such as fish and stick insects from its early days. It's expanded to include hermit crabs, a rabbit, lizards, fish, inserts, tadpoles in its curriculum. The service's location within a primary school precinct means they're looking at sharing a chook pen in future, too. "We had many options for [larger] animals, but parents and children selected a rabbit including its hutch and food, so they understand the whole process of pet ownership. Our rabbit, Bella, currently roams around the yard free range and has an indoor and outdoor house," says Ficsor. They've been able to keep costs down with some pets being donated to the service – such as a bearded dragon, stick insects and hermit crab.
Sharing the care
Bella the rabbit goes home with different families or staff members on weekends or holidays. Ficsor took the task under her wing, developing a flow chart, roster and care guidebook for looking after Bella inside and outside of the service. "For example, during rest time, children who prefer not to sleep can help us feed and clean the hutch. We also realised that some animals, such as rabbits, need a bit more attention than a fish or lizard, so that's why we decided to create a roster," she says. "I used a reflective process – reading our reflection book and talking to other staff in meetings about what worked best. "It really was a collaboration between all staff. By making it routine, it's so much easier."
Connecting with parents
Victoria Avenue Children's Centre also surveyed parents about pet care and some parents said an issue was "not knowing when they could take it home". The guidebook, contracts for parents to sign before taking Bella home, and a 'take home' roster have helped.
"We can't contain the excitement across all three kids when they know Bella is coming…and shhhh… but secretly mummy really likes having Bella too. This is such a fantastic opportunity as Bella is loveable and cuddly and becomes part of the family very quickly.  It is a great way to teach my kids some responsibility by helping feed and clean her cage (which really only takes five minutes), it also enables them to have a pet for the weekend – way better than staring at a digital device. The great thing about taking Bella is that she doesn't need much space – you don't need a big back yard or a huge room, she will be happy anywhere.  Bella gets to hop around our lounge room and she snuggles next to us when we are watching TV."
Feedback from one Victoria Avenue family
Benefits outweigh the risks
Staff and parents were initially concerned about health and safety issues, said Ficsor. They wanted to know more about the risks around faeces, biting, scratching, asthma and allergy triggers. "But with all the staff moving forward make sure they understand the needs and health and safety risk of these animals," she says. Hand washing, cleaning and disinfecting are part of the protocols.
Here's how Victoria Avenue went about its due diligence to address risk issues:
Risk assessments for each animal
Reptile license
Research and education to educators on care and benefits of animals
Care and education guide for families
Review and update of policies
Reflecting on almost three years of having animals integrated into their curriculum, the service has identify these benefits:
Settling children on arrivals
Learning tool – nurturing responsibility, literacy exposure, mathematical ideas as well as companionship and entertainment
Increase sense of belonging for children at the service
Partnerships between service and home
Paws for thought
Emma Armitage, who's the service's co-ordinator, says preparation and commitment – of staff – is the key to a successful animal care program in early learning services. "Care and safety of the animals is a high priority and our animal program is embedded into curriculum, philosophy and how we operate. Pardon the pun, but we have 'living and breathing' policy and practices that we continually monitor and evaluate to ensure how Tiny Tails unfurls in service is a good fit for our children, staff and community." "It works for us, but for those services who might not be able to embrace animals as we do, there are great alternatives. Visit your local park and encourage families to bring animals for visits or animal incursions." That means the 'fourth educator' – aka animals – are accessible to any service.